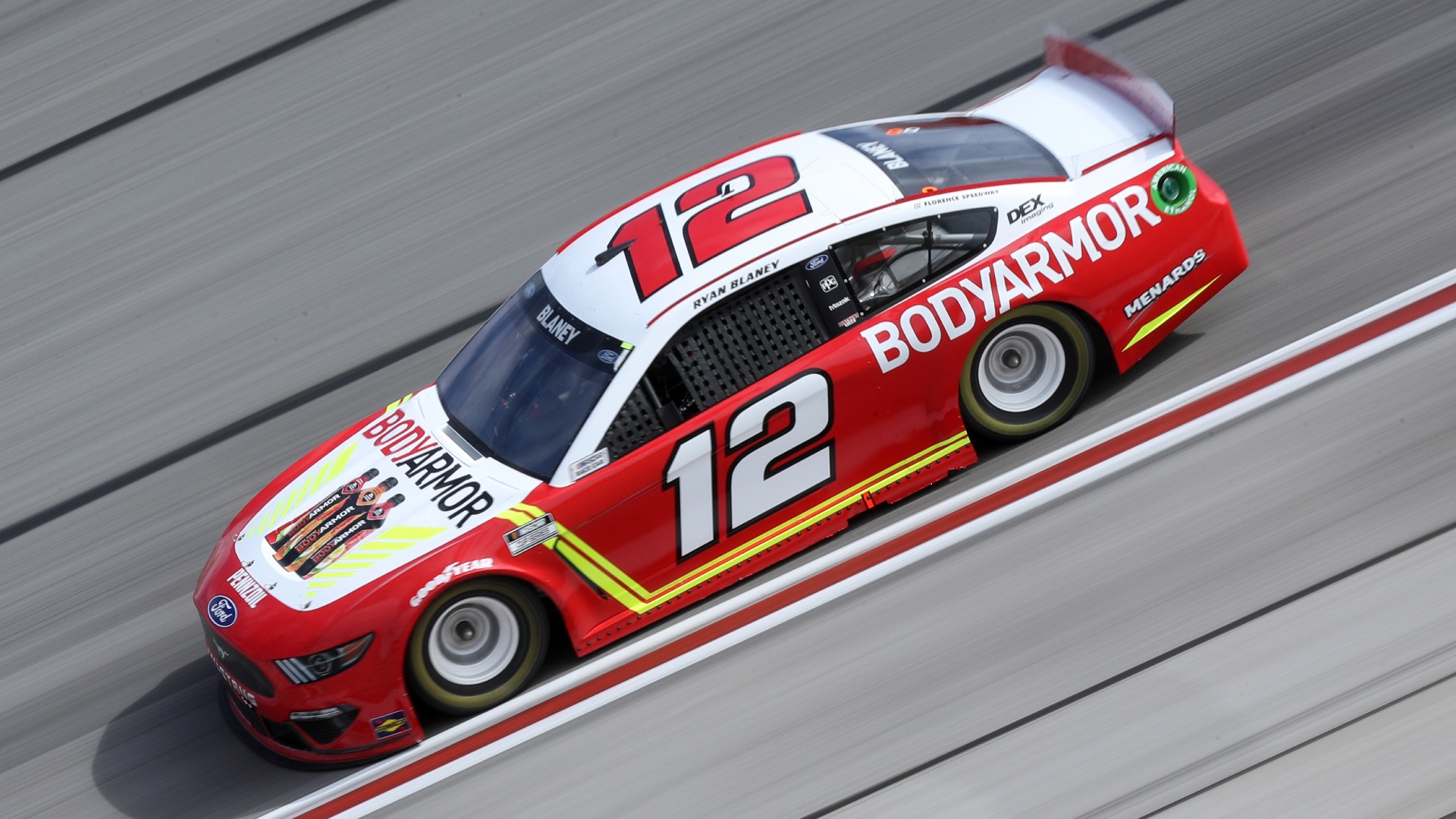 Ryan Blaney got hot at the right time in Hot-lanta.
While Kyle Larson dominated most of the day, leading more than 200 laps in the 325-lap race, Blaney was the most opportunistic, taking a late lead over Larson and winning the Folds of Honor QuikTrip 500 at Atlanta Motor Speedway on Sunday.
Blaney's win makes it six different winners in six races this season, even though Larson was flirting with his second win on the year for much of the day.
For most of the afternoon, it was Larson's race to lose as he won the first two stages. Blaney, though, closed the gap in the final laps, taking the lead with eight to go.
Elsewhere, Denny Hamlin continued his hot start to the 2021 season, securing another top-five finish, his fifth in six races. Kevin Harvick, who called his car "crap" earlier in the race, ultimately finished in the top 10.
Sporting News has results, highlights and more from Sunday's race at Atlanta Motor Speedway below:
MORE: Watch NASCAR racing live with fuboTV (7-day free trial)
(All times Eastern)
NASCAR at Atlanta results
Unofficial race results.
| Position | Driver |
| --- | --- |
| 1. | Ryan Blaney |
| 2. | Kyle Larson |
| 3. | Alex Bowman |
| 4. | Denny Hamlin |
| 5. | Kyle Busch |
| 6. | Austin Dillon |
| 7. | Chris Buescher |
| 8. | William Byron |
| 9. | Martin Truex Jr. |
| 10. | Kevin Harvick |
| 11. | Matt DiBenedetto |
| 12. | Ricky Stenhouse Jr. |
| 13. | Ryan Newman |
| 14. | Ross Chastain |
| 15. | Joey Logano |
| 16. | Bubba Wallace |
| 17. | Daniel Suarez |
| 18. | Cole Custer |
| 19. | Michael McDowell |
| 20. | Aric Almirola |
| 21. | Cody Bell |
| 22. | Austin Cindric |
| 23. | Chase Briscoe |
| 24. | Erik Jones |
| 25. | Ryan Preece |
| 26. | Tyler Reddick |
| 27. | Anthony Alfredo |
| 28. | Brad Keselowski |
| 29. | Corey LaJoie |
| 30. | Justin Haley |
| 31. | Cody Ware |
| 32. | James Davison |
| 33. | Quin Houff |
| 34. | B.J. McLeod |
| 35. | Joey Gase |
| 36. | Timmy Hill |
| 37. | Josh Bilicki |
| 38. | Chase Elliott (DNF) |
| 39. | Kurt Busch (DNF) |
NASCAR at Atlanta live updates, highlights from QuikTrip 500
6:46 END OF RACE: Ryan Blaney takes the checkered flag, downing Kyle Larson after Larson's dominating performance.
6:42 p.m.: 10 laps to go. Lead change. Ryan Blaney takes the lead with eight laps to go and Larson's car fading.
6:37 p.m.: Under 20 laps to go, and Ryan Blaney keeps tightening the gap to Larson. It's just around a second now.
6:18 p.m.: Some drama in the pits, as Anthony Alfredo somehow gets turned around and hits a pit crew member of the No. 10 car. Big yikes.
6:13 p.m.: Ryan Blaney is closing the gap on Larson, and we're expecting to see some green-flag stops soon. That could decide the race.
6:07 p.m.: Kyle Larson has opened up a 2 1/2 second lead over Ryan Blaney. He's led 205 laps today.
5:59 p.m.: Larson retakes the lead from Blaney after a piece of trash gets on Blaney's front bumper. Blaney recovers after riding Larson's bumper, debris gone.
5:53 p.m.: The new race leader is Ryan Blaney, who had a good pit stop. Larson and Denny hamlin are fighting for second in a fun duel.
5:48 p.m.: Just after the restart, something went very wrong for Chase Elliott's car. He heads smoking into pit road, and it looks like his day is done. Caution flag is out.
5:32 p.m. End Stage 2: Larson, again, with the stage win today.
5:29 p.m.: Kyle Larson leads Ryan Blaney by 10 seconds with Stage 2 coming to an end. Bowman, Kyle Busch and William Byron round out the top five.
5:23 p.m.: Not the best day for Brad Keselowski, who's currently in 30th place. Rough afternoon. Kevin Harvick's luck hasn't much improved either, sitting in 20th.
5:15 p.m.: Kyle Larson still in the lead and he has a heavy eight-second lead over Alex Bowman. He's dominating the race today.
5:05 p.m.: Daniel Suarez in the pits as the leader, and Larson retakes the lead. 49 laps to go in Stage 2.
4:46 p.m.: Kyle Larson, Ryan Blaney, Alex Bowman, Matt DiBenedetto, Williom Byron are your one-through-five. Austin Dillon, Kyle Busch, Chris Buescher, Chase Elliott, Ricky Stenhouse Jr. round out the top 10.
4:41 p.m.: Restart in lap 118. Much cleaner this time around. Track stretches to three wide.
4:32 p.m.: Kurt Busch hits the wall eight laps into Stage 2. Caution flag is out. Looks like he may be done for the day.
4:21 p.m. End Stage 1: Kyle Larson takes home Stage 1, leading 70 laps so far on the day.
4:20 p.m.: Three laps to go in Stage 1, and Kyle Larson looks like he's going to take it. He's been in the lead since the restart.
4:10 p.m.: Kevin Harvick having a rough go of it, currently sitting in 25th.
"This thing is the biggest pile of crap I've ever driven at Atlanta," Kevin Harvick

— Jordan Bianchi (@Jordan_Bianchi) March 21, 2021
4:00 p.m.: Lots of green flag stops here, Kyle Larson comes out of pit road on top, followed by Hamlin, Kyle Busch, Ryan Blaney and Alex Bowman. Through 70 laps.
3:53 p.m.: Chase Elliott into the top 10, sitting at No. 8 through 55 laps. Bubba Wallace falling back to 19th after starting 13.
3:40 p.m.: Some trouble for Kevin Harvick on the restart; His left rear tire is flat, and he's heading back into the pits after shooting into third.
Harvick is pitting as they come to green for a flat left rear tire

— Bob Pockrass (@bobpockrass) March 21, 2021
3:33 p.m.: Compeition caution is out. Chase Elliott is up to 15th after being dropped to the back of the grid at the start of the race.
3:29 p.m.: Denny Hamlin still leading heading into lap 20, with Kyle Larson, Kevin Harvick, William Byron and Ryan Blaney rounding out the top five.
3:19 p.m.: Green flag in Atlanta, and we are underway. 325 laps today.
3:08 p.m.: Erin Andrews gives the drivers the go-ahead.
3:00 p.m.: Both Chase Elliott and Timmy Hill will fall to the back of the field today after failed inspections.
NASCAR race start time today
The green flag for today's NASCAR Cup Series race at Atlanta Motor Speedway, the Folds of Honor QuikTrip 500, is scheduled to wave at 3:19 p.m. ET.
NASCAR lineup at Atlanta
Here is the complete starting lineup for Sunday's NASCAR race at Atlanta Motor Speedway, the Folds of Honor QuikTrip 500:
| | | | |
| --- | --- | --- | --- |
| Starting pos. | Driver | Car No. | Team |
| 1 | Denny Hamlin | 11 | Joe Gibbs Racing |
| 2 | Martin Truex Jr. | 19 | Joe Gibbs Racing |
| 3 | Joey Logano | 22 | Team Penske |
| 4 | Brad Keselowski | 2 | Team Penske |
| 5 | Chase Elliott | 9 | Hendrick Motorsports |
| 6 | Kyle Larson | 5 | Hendrick Motorsports |
| 7 | Kevin Harvick | 4 | Stewart-Haas Racing |
| 8 | Christopher Bell | 20 | Joe Gibbs Racing |
| 9 | William Byron | 24 | Hendrick Motorsports |
| 10 | Ryan Blaney | 12 | Team Penske |
| 11 | Kurt Busch | 1 | Chip Ganassi Racing |
| 12 | Ricky Stenhouse Jr. | 47 | JTG Daugherty Racing |
| 13 | Austin Dillon | 3 | Richard Childress Racing |
| 14 | Alex Bowman | 48 | Hendrick Motorsports |
| 15 | Bubba Wallace | 23 | 23XI Racing |
| 16 | Aric Almirola | 10 | Stewart-Haas Racing |
| 17 | Chris Buescher | 17 | Roush Fenway Racing |
| 18 | Michael McDowell | 34 | Front Row Motorsports |
| 19 | Kyle Busch | 18 | Joe Gibbs Racing |
| 20 | Matt DiBenedetto | 21 | Wood Brothers Racing |
| 21 | Ross Chastain | 42 | Chip Ganassi Racing |
| 22 | Erik Jones | 43 | Richard Petty Motorsports |
| 23 | Ryan Preece | 37 | JTG Daugherty Racing |
| 24 | Chase Briscoe | 14 | Stewart-Haas Racing |
| 25 | Daniel Suarez | 99 | TrackHouse Racing Team |
| 26 | Justin Haley | 77 | Spire Motorsports |
| 27 | Cole Custer | 41 | Stewart-Haas Racing |
| 28 | Ryan Newman | 6 | Roush Fenway Racing |
| 29 | Tyler Reddick | 8 | Richard Childress Racing |
| 30 | Corey LaJoie | 7 | Spire Motorsports |
| 31 | BJ McLeod | 78 | Live Fast Motorsports |
| 32 | Anthony Alfredo | 38 | Front Row Motorsports |
| 33 | Cody Ware | 51 | Petty Ware Racing |
| 34 | James Davison | 15 | Rick Ware Racing |
| 35 | Quin Houff | 00 | StarCom Racing |
| 36 | Joey Gase | 53 | Rick Ware Racing |
| 37 | Josh Bilicki | 52 | Rick Ware Racing |
| 38 | Timmy Hill | 66 | Motorsports Business Management |
| 39 | Austin Cindric | 33 | Team Penske |